The "Stuttgarter Stadtachter"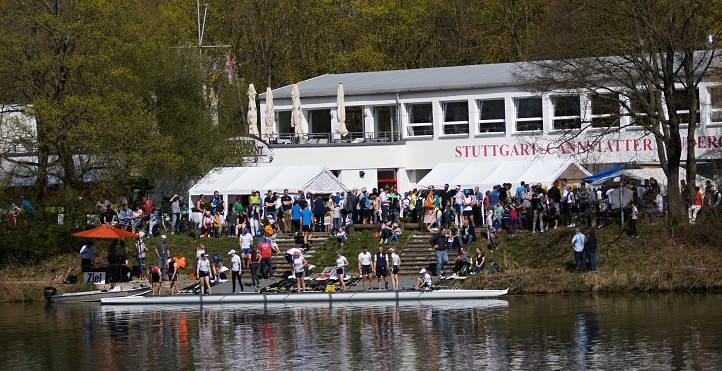 The "Stuttgarter Stadtachter" is a rowing regatta for teams of eight. With the regatta, the "Stuttgart Cannstatter Ruderclub von 1910 e.V." the goal of presenting rowing as a team sport. The event was launched in 1987 by the "Stuttgart Cannstatt Rowing Club" as a competition between the two rowing clubs in Stuttgart. Because of the club colors, the rowers of the "Stuttgarter Rudergesellschaft von 1899 e.V." are called THE BLUES and those of the "Stuttgart Cannstatter Ruderclub von 1910 e.V." are called THE REDS. Today, participation is open to all rowing clubs and company teams. In recent years, rowing clubs from neighboring countries have also taken part. The model for the regatta is the traditional regatta "Head f the River Race" (HORR London), where more than 400 eights from all over the world start every year. The HORR is the world's most famous rowing regatta. Thousands of spectators line the banks of the course on the River Thames.
The Stuttgart City Eight takes place every year on Sundays, two weeks before Easter. Races are advertised for different team classes. Each team has to prove its skills on the long and sprint distances. In addition to the performance of the rowers, the coxswain also have to prove their skills. Your ability to find the right track, especially in the curves, can make the difference between your team's success or failure. The long-distance race starts at the Willhelmsbrücke in Stuttgart Bad-Cannstatt. The finish is at the height of the Stuttgart Cannstatt Rowing Club. The start takes place every 30 seconds. The route length is 3200 m and is driven with the current. The start of the sprint race is at the Au Bridge in Stuttgart-Hofen. The length of the sprint course is 350 m against the current.
The fastest boat on the long-haul, in the men's open class, receives the "Cannstatter Kanne" challenge prize. The fastest boat in the sprint receives the challenge prize "Heinz Fritsch Pokal". The winning teams of the other boat classes receive honorary awards. The sprint race has been evaluated independently since 2006.
In order to inspire the youngest ones for rowing and to introduce them to the comparison of forces in regattas, children's races, in steered fours, are also offered. The children's races start at the Aubrücke upstream. After 1700 m you have to turn around and row down the river towards the boathouse. The destination is after 3000 m at the StCRC boathouse.